Contact Details
Address:
Inchcoonans
Errol
Perth
PERTHSHIRE
PH2 7RB
Phone: 01821 642 653
Fax: 01821 642 427
Company Statement
We manufacture clay facing and engineering bricks to FL quality. Smooth, rustic or antique textures are available in 65mm, 73mm & 80mm dimensions. Terracotta red, brown and multi are the colours our clay produces. Puddle Clay is readily available for the lining of landfills to flood defence works.
******************************
The TEMCO kilns were last used in 1986 since when the eastern example has been converted to a museum and plans are currently (2000) afoot to restore that to the west. The method of firing from the side led to massive heat variation, with the sprung roof expanding by 1.5″. The beehive kilns were capable of holding from 10,000 – 100,000 bricks per load and were also used in the production of large drain pipes. Errol Brick Company is the only survivor of a group of nineteenth-century brickworks in the area: the others were Pitfour Patent Brick Company, Megginch, Waterybutts and Nether Mains of Inchture. Errol (Inchcoonans Tileworks) Brickworks opened in 1855 producing pottery (a short-lived venture), bricks and field drainage tiles. Using local alluvial clay, brick making was introduced by the Romans and revived in the sixteenth century by traders from the Low Countries. The parish has examples of brick farmhouses dating from the late 18th century, with a rare mid-century survival at Flatfield; steadings were not built of brick until the early 19th century. The kilns at Errol Brick Company comprise of 1 rectangular downdraught kiln, 2 round downdraught kilns (see above), 1 tunnel kiln and 1 modern shuttle kiln.
****************************
1980 – The assets of A.Fraser, Inchcoonans Works were acquired By Mr Peter Baird in 1980. Holding exciting plans for the expansion of the Works, into the manufacture (once again) of clay facing bricks, before his plans could materialise, Mr Baird became a victim of terminal cancer and in 1983 he sold the assets to Whatlings Ltd of North Claremont Street, Glasgow
1983 – When Whatlings purchased A Fraser Brick and Tile Works Errol in 1983 from Peter Baird, Colin McNeil was appointed Director of that Business and for the next 6 years ( including through A McAlpine's ownership – McAlpine purchased Whatlings in 1985) he oversaw the investment of CGE Shuttle kiln, Lingl Tunnel kiln, most of the buildings associated with the manufacturing process and various other new equipment. During this time a museum within one of the Tempco beehive kilns.   It is significant also that the establishment of that investment resulted in our negotiation with Scottish Gas to install a Gas supply pipeline to the Works, which of course has benefited successors and neighbours.
20/02/1987 – Perthshire Advertiser – Expansion plans by an Errol brickwork company could result in a jobs boost to the area. lnchcoonans Brickworks have applied to Perth and Kinross District Council for planning permission to carry out alterations at the factory. The £240,000 plans involve relocating gas storage tanks, installing new kilns and extending the premises. Using local clay, the firm specialises in producing engineering bricks. A company spokesman said that the works had been there for over 80 years. Originally a brickworks, they stopped producing them in the mid-1960s when they changed to agricultural field drain tiles. However, with the advent of plastic tiles, they reverted to bricks two years ago. It is expected that the new kilns will raise the production rate four-fold. As a result, the workforce would also increase. The spokesman added that it would take approximately a year for the new works to be in operation.
1988 – In keeping with its restructuring program, Alfred McAlpine PLC sold its Scottish brickmaking works, in Errol, Perthshire, to Marley PLC for $5.4 million.29 This acquisition, Marley's first in Scotland, produces a full line of facing and engineering bricks and tiles. The newly operational Lingl tunnel kilns are currently producing about 10 million bricks per year, all from locally derived clays. Marley plans to expand the market area for the company's bricks into northern England.
17/10/1989 – Perthshire Advertiser – Errol factory celebrate a new era in brick making. A legacy left in the Carse of Gowrie by glacial recession some 12,000 years ago was responsible for a special birthday party at Errol last week. But the party was not to celebrate something thousands of years old, but the birth of a new era which happened just a year ago. That was when a whole new chapter in the history of brick-making in Errol was born with the acquisition of Errol Brickworks by Nottingham Brick Plc. Bricks had been made in Errol since as far back as 1785 when the strong and dense brick-making qualities of the Carse's late-glacial alluvial clays were first recognised. By 1854 demand for Errol bricks had increased so much that the Inchcoonan clay works were erected on the site which now houses the ultra-modern Errol Brick factory which can now turn out 10 million high-quality bricks a year as a result of the company's £2.5m investment. And Nottingham Brick's pledge to commit itself to brick-making in Scotland and its development of a new range of high quality facing bricks at Errol will ensure that Carse clay continues to grace many Scottish buildings domestic, office and industrial in the years to come. To mark that development and commitment to Errol, the company has adopted the Tay salmon as its symbol, a specially commissioned sculpture of which was unveiled by Perth and Kinross District Councillor Mrs Jean McCormack at the "birthday party". The impressive clay salmon had been sculptured by artist Myra Clegg, whose husband, Andrew, is the sales manager at Errol Bricks. Mrs McCormack, a local member for the Carse of Gowrie, commended Nottingham Brick's commitment to Errol which, she said, would guarantee the making of bricks there for hundreds of years. She also welcomed the effect the brick factory had on the local community. By employing many local people, she said, the factory was helping to prevent Errol from becoming just a dormitory village. Mrs McCormack joined Nottingham Brick's managing director, Mr Derrick Venn, in cutting an amazing birthday cake modelled on the brickworks' historic beehive kiln and chimney. The cake was made by Perth bakers, Mclntyres. One of the factory's beehive kilns has been restored and now forms an attractive feature of the factory site. The kiln was built in 1950 and used until 1986, has been transformed into a visitor centre which outlines the history of brickmaking in the area. But while it is a nostalgic reminder of a bygone age, the beehive kiln could handle only a small quantity of bricks, had a greater smoke emission and was less economic than the ultramodern, gas-fired, computer-controlled continuous kiln which ensures the high quality of the Errol range.
Below – Errol Brick Factory celebrations: from the left Derrick Venn (Managing director, Nottingham Brick), Kyra Clegg (sculptor), councillor Jean McCormack and Hugh Henderson (director, Errol Brick).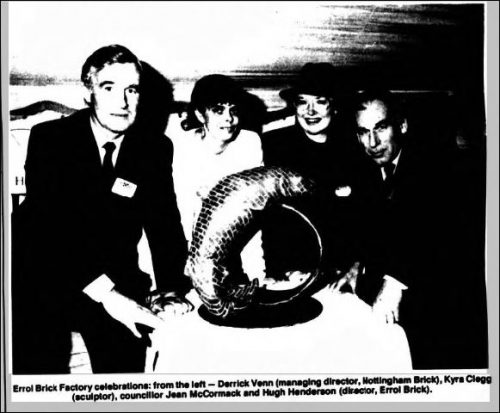 1994 – Management buyout by Andrew Clegg, Martin Dighton and Michael Challoner.
2010 – The Errol Brickworks, which had provided a source of local clay from the Gallowflat claypit, as well as a location for processing materials, closed in 2010.
Below – 3 photos of Errol Brickworks September 2015.
.
.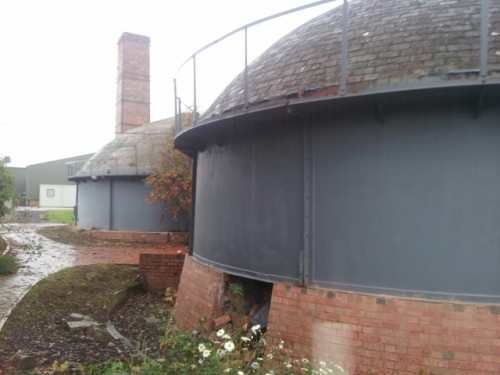 ****************************************
The following products were found on-site and I believe they will have been manufactured there over various timeframes.
Below – Oversized brick 80 mm x 160 mm x 270 mm.
.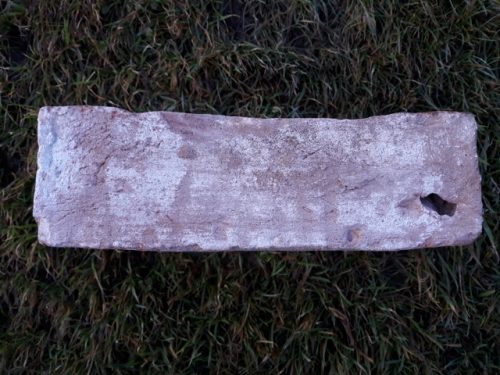 Below – 2 perforated air vents  –
60 mm x 220 mm x 220 mm – 54 holes.
60 mm x 135 mm x 215 mm – 45 holes.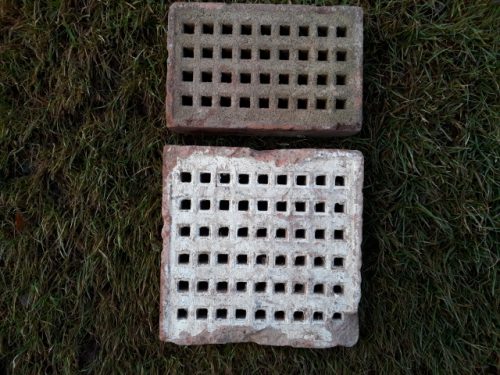 .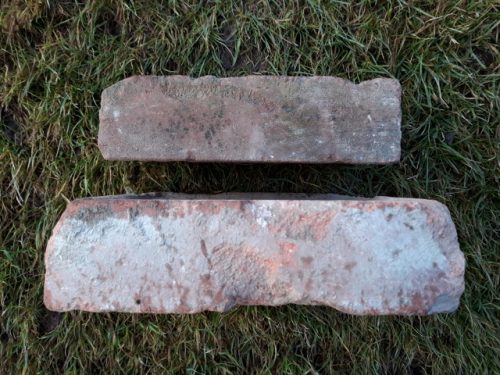 Below – Slim brick with narrow deep frog – 50 mm x 100 mm x 215 mm.
.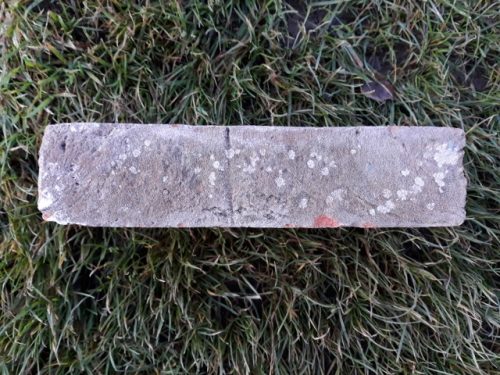 Below – Possible floor tile – 7 grooves – 30 mm x 110 mm x 225 mm.
.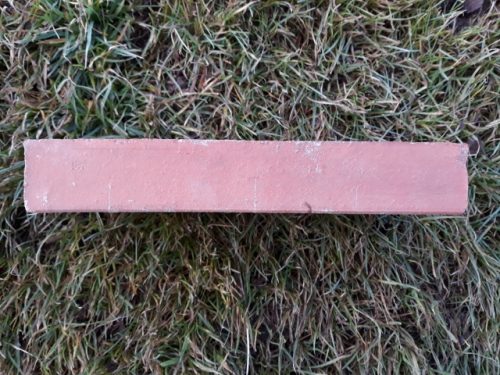 Below  – 3 x floor tile of various sizes.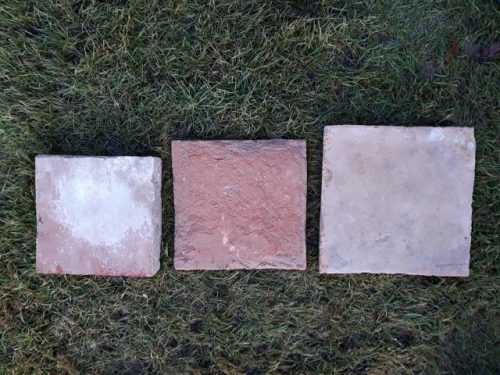 .
Below – A selection of 4, Errol manufactured bricks donated by John Logie who used to work on the site.