Orbiston Tileworks, Bellshill, Glasgow
Orbiston, Tileworks, Bellshill, Glasgow aka Orbieston Tileworks.
Unknown date – The following entry is recorded by the Carluke Parish Historical Society as being extracts from 'James Blake's' notebooks …
Castlehill drainers find a field of clay at Orbiston, Bellshill on Lawmuir Farm – old works here.
26/01/1849 – Glasgow Herald – Orbiston Tilework in the parish of Bothwell to let  – This tilework situated near to Belshill and in the immediate vicinity of the Motherwell Branch of the Clydesdale Junction Railway with other good roads in all directions, is to be let, for such a number of years as may be agreed on. There is an abundant supply of clay of the best quality, the drying sheds are much approved of and the kiln is in good order. A dwelling house is attached. The tackman will be required to carry on the works, keep the premises in repair and to pay a Lordship upon the output as rent. Offers on these terms may be lodged with Messrs T. and J Dykes, Writers, in Hamilton for one month from this date. The premises will be shown by the gardener at Orbiston House. Hamilton 10/01/1849.
17/05/1850 – Glasgow Herald – Alexander Orr and Samuel Clark were charged with assaulting on the 21st last, Hugh McCormick brick and tile maker at Orbiston Tileworks …
16/02/1853 – North British Agriculturist – Orbiston, Boggs, Bankhead &c near Bellshill, Parish of Bothwell to be let for this season … The Orbiston Tilework, on the above Estate, will be let, by private bargain, for such time as may be agreed on, with the whole sheds, machinery &c, and dwelling house attached. Entry immediately to the works, and to the dwelling house at Whitsunday next. Application may be made to Mr John Smith, 85, St Vincent Street, Glasgow; or Messrs T. &  J. Dykes, Hamilton, either of whom will receive offers till the end of this month. Orbiston, 7th Feb., 1853.
1858 – Mineral Statistics of the United Kingdom of Great Britain and Ireland for 1858. Orbiston, clay of coal measures. Name of the freeholder, Mrs Douglas. Manufacturer – Andrew White. Manufacture -bricks.
Below – 1859 –  Orbiston Tileworks. The works appear disused by 1898.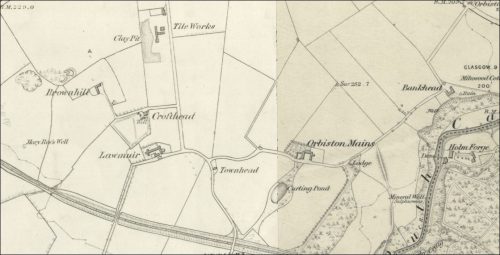 17/11/1862 – Glasgow Herald – Farms to let in the Parish of Bothwell. The farms of Mains of Orbiston along with the adjoining farm of Bankhead in the parish of Bothwell of the shire of Lanark as at present possessed by Messrs Kinnes will be let for 19 years … There is a tile work adjoining the farms and belonging to the proprietor … The outgoing tenants do not offer.
1868 – A. White, Orbiston Tilework, Bellshill, Glasgow (Believed to be Andrew White).
29/09/1877 – Renfrewshire Independent – Marriages – At Orbiston Tileworks, Bellshill on 25th inst by the Rev. Andrew Doak, Thomas Anderson to Jeannie White, daughter of Mr Andrew White.
1879 – … And at Orbiston there is a brick clay worked which also appears to belong to the 'beds in the till'. This brick clay contains hazelnuts …
13/03/1882 – Glasgow Herald – Drain pipes. Quantity of 2 inch for sale. Likewise, other sizes may be had. Robert White, Orbiston Tileworks, Bellshill, Lanarkshire.
23/02/1888 – Southern Reporter – A boy of 10 years of age, named Walter Ramsay son of James Ramsay, miner, Orbieston, Bothwell has been drowned in an old clay hole at Orbieston Tilework. Along with a companion, he was amusing himself on the ice when it gave way at a point seven feet deep.
25/02/1888 – Hamilton Advertiser – Flower pots are now made and can be supplied at Orbiston Tileworks – Address Robert White, Orbiston Tileworks, Bellshill.
23/01/1889 – Sale of brick and tile makers plant and stock, household furniture etc. at Orbiston Tileworks, Belshill tomorrow (Thursday) 24th January at ten am. Shirlaw and Allan & Co instructed by Messrs William Brown & Co, Solicitors, Hamilton, will sell by auction the above. Hamilton 23rd January 1889.
13/10/1899 – Ardrossan and Saltcoats Herald – Deaths – At Orbiston Tilework, Belshill on 6th inst., Andrew Steel aged 53 late of Muirkirk. Deeply regretted.