Kinnoir Brick and Tile Works, Huntly, Aberdeenshire
Kinnoir Brick and Tile Works, Huntly, Aberdeenshire.
22/05/1844 – The Scotsman – To brick and tile makers. Wanted, for a brick and tile work at Huntly, an experiences brick and tile maker and who would be qualified to superintend the whole work. A steady and experienced man would meet with good encouragement. Apply to Mr P. Mortimer, Huntly.
1865 – 1871 – ScotlandsPlaces – Kinnoir Brick and Tile Works. This is an extensive brick & tile works having on an average 15 men employed at it. It is attached to Mr MacKay's croft on the Farm of Bridges. There is a large bed of good clay close to the works. Houses, sheds, kiln &c. are all in good repair. It is situated about three miles North East of the town of Huntly and is the property of His Grace the Duke of Richmond.
Below – 1871 – Kinnoir Brick and Tile Works.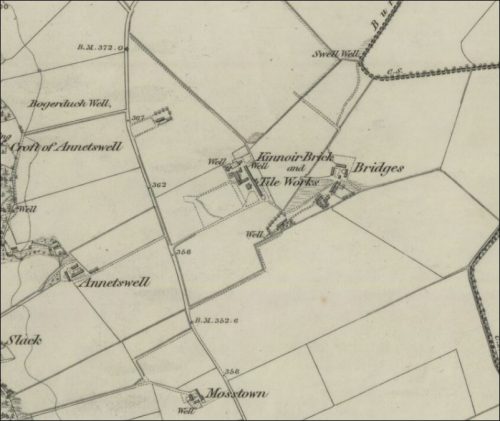 28/02/1871 – Banffshire Journal – Kinnoir. A ploughing match took place at William Jessiemans Farm at Auchmill.  Among the ploughing contestants was William Smith, brickworks ( Kinnoir?) …
1878 – Peter Mortimer, brick and tile maker, Kinnoir, Huntly.
10/01/1880 – Aberdeen Peoples Journal – Sale of horses –  Three fine draught animals belonging to the Kinnoir Brick and Tile Company were exposed for sale by public auction on the Market Stance on Wednesday. There was large attendance intending purchasers, and bidding was animated. A strong horse, 5 years old, fetched £64; one do., 4 years old, was knocked out at £30 and a ten-year-old mare brought £28 5s. Mr Finlay was the auctioneer.
1886 – Peter Mackay and Co, brick and tile maker, Kinnoir, Huntly.
06/10/1896 – Buchan Observer – Proposed Central Buchan Railway. Deputation to G.N.S.R. directors … There is also the Kinnoir Brick and Tile Works with considerable traffic …
1901 – Directory of Clayworkers – Peter Mackay & Co, Kinnoir – Huntly, Aberdeenshire.
05/08/1904 – Aberdeen Press and Journal – Cattle Show, Huntly – Dairy produce – commended – Peter McKay, Kinnoir Tileworks.
16/05/1911 – Aberdeen Press and Journal – Assault Kinnoir Tileworks – Richard Henry Dene, Englishman, employed at Kinnoir Tileworks, and lodging, along with his wife at 5 Mill Lane, Huntly, about midnight, on Saturday, was arrested and lodged in prison, on a charge of having seriously assaulted his wife by biting her on the neck and other parts of the body, and threatening to cut her throat with an open knife, held his band, and otherwise maltreating her to the effusion of blood, and also with committing a breach of the peace. The police, having doubts to the man's sanity, had him medically examined yesterday morning, prior to the Police Court, which he was to have appeared. It is stated that the unfortunate man has been certified to be insane and that arrangements are being made to have him conveyed to the asylum. The affair caused considerable excitement and comment in the town, and many wild rumours were in circulation.
16/09/1911 – St Andrews Citizen – Marriage – on the 8th … Peter McKay, Kinnoir Tileworks, Huntly to Jenny, daughter of the late William Swinton, architect, Dunfermline.
04/07/1913 – Event held to celebrate the retirement of a local farmer. Those in attendance included … Mr R Mackay, Kinnoir Brickworks …
Below – 1900 – Kinnoir Brick and Tile Works.
20/08/1914 – Aberdeen Press and Journal – Sudden death at Kinnoir – On Monday afternoon. John Catto (59), labourer, employed at the Kinnoir Tile works, while engaged in the engine room along with another man, dropped down suddenly and expired. It appears that while the deceased was lifting a lump of clay he suddenly fell down on the ground. His companions carried him to the open air when it was found that was dead. Dr Garson, Huntlv, was immediately summoned and found that the deceased was beyond medical aid. The doctor assigned the cause of death to heart failure. The deceased, who had been about 20 years in the employment Mr P. McKay at the tileworks, had been abroad in his earlier years and was employed for some in the teaching profession. He belonged to the  Kinnoir district and was unmarried.
Below – 1925 – Kinnoir Brick and Tile Works.
07/08/1935 – Aberdeen Press and Journal – Curling? match between Huntly club and local farmers … At the close Mr Peter McKay, Kinnoir Tileworks thanked the club and president …
07/10/1937 – Aberdeen Press and Journal – Huntly Central Show of calves … Single bullock or heifer – 1. P. Mackay, Tileworks, Kinnoir. Champion bullock or heifer – P. Mackay, Tileworks, with black polled heifer … The store class champion from Kinnoir Tileworks was a well-developed B. P. heifer … The first prize pair of bullocks from Mr Shand. Tullochbeg, sold to £20 12 6 while the champion and other prize-winning H.F.'s from Mr Mackay, Tileworks, made £18 5 -.
21/12/1944 – Aberdeen Weekly Journal – Married at Newtongerrie, Drumblade, on December 8, 1894, Mr and Mrs Wm Niven, Tileworks Cottage, Kinnoir, Huntly, have celebrated their golden wedding. For a number of years, Mr Niven was employed as a farm servant in the Huntly district until in 1914 he entered the service of Mr P. Mackay as a carter at Kinnoir Tileworks. In that capacity, he gave faithful service to the firm, and although retired from active work several years ago, he still lends a hand when the occasion demands. Of a family of nine, six survive. There are nineteen grandchildren and one great-grandchild. On the occasion of the anniversary, Mr and Mrs Niven were made the recipients of a handsome gift from his employer and a wallet of treasury notes from their family and friends. They also received many messages of congratulation.
Peter Mortimer & Company, Brickworks, Huntly, Aberdeen