Inchture Brick and Tile Works, Inchture, Perthshire
Source Perth & Kinross Council Archive – They state … We also have a draft lease between Lord Kinnaird and Alexander Thomson for the "Inchture Brick and Tile Works", c.1853 (MS100/2 1083 and 1092), although the 1857 valuation roll just describes it as a tilework.
1817 – 1867  – MS100/2/Bundle1083 – For miscellaneous properties including Inchture Brick and Tile Works, the tileworks at New Mains of Inchture and draft tacks and offers for the farms of Newtonbank, West Mains of Inchture.
Includes: Scroll of a missive of lease from Thomas Hood to Lord Kinnaird for the farm of Newton Bank, 1817.
13 September 1851, James Condie, Perth to Lord Kinnaird. Relates to the fishing marches between Lord Kinnaird's estate and the Castle Huntly Estate.
Offers and draft agreements between Lord Kinnaird and James Webster for the tile works at Newmains, 1843, 1846.
Draft tack for the brick and tile works at Newmains, n.d.
08/06/1843 – Perthshire Advertiser – Inchture – Lord Kinnaird has introduced into the Carse of Gowrie those celebrated drain ploughs that are so famous in the neighbourhood of Stirling, for the expeditious and most efficient manner in which they perform the work assigned to them. It was generally understood by most of people in the district, that his Lordshipintended to commence operations on Wednesday last week on the farm of Newmains of Inchture and such a keen and lively interest was taken by every person here, that, notwithstanding the very rainy day, there were four or five hundred people who witnessed the operations. Almost the whole of the farmers in the neighbourhood attended and a great many of the landed proprietors in this quarter and also from a distance, were present, amongst whom we noticed, besides Lord Kinnaird, Sir Patrick Murray Threipland, Bart. Sir John Ogilvy Bart &c and a great many more distinguished individuals. The operations were conducted by the imminent inventor of the plough, Mr Alexander from Stirling and he was most ably assisted by Mr McNab, and some other gentlemen from the same quarter; and they are certainly entitled to great credit for the very business-like manner in which they managed the performance of the work. The ploughs are each drawn by twelve horses, and when the ground is gone over with one, the horses are then attached to the other. The length of the furrows was nearly two hundred yards and they were gone over in about six minutes. The furrow is twice gone over. The second plough is narrower than the other, on purpose to take out the bottom of the drain to the size of the tile and thus when finished the drain presents one uniform and most beautiful appearance and is at once ready for the laying of the tile, or a concrete drain may be immediately formed in it, as was most expeditiously shown how to done by Lord Kinnaird himself, who very dexterously performed the manipulations with his own hands, and showed how it was performed in either the two ways that he practises his own home farm. In the one, the concrete is formed in the shape of an inverted tile or turned upside down, and a common sole used for tile is then placed over the concrete, which forms at once a very cheap and durable drain. In the other method, his Lordship formed a concrete sole in the bottom of the drain, and then the common drain tile was put in above, and this forms most a perfect and permanent drain. His Lordship takes a very active part in all these most useful operations and enters with great zeal and spirit into all the manipulations connected with the work going on. And his tenantry cannot but award him their grateful acknowledgements, as his Lordship has procured the drain ploughs almost entirely for their use; and has also this season established a tile work his estate, where tile is to supplied considerably cheaper than they could hitherto procure.
27/04/1854 – Perthshire Advertiser – Inchture brick and tile works – William Springhall begs to announce that he can now supply drainage pipes and tiles, house tiles, bricks etc in any quantity. Full particulars as to prices can be had by applying to William Springhall, Inchture. NB – Agent for Wishaw Coals.
14/12/1855 – Dundee, Perth and Cupar Advertiser – Bricks and tiles – The public can be supplied with bricks and tiles at the Inchture Tileworks or sent per order to any of the different railway stations by applying to Mr Thomson, manager or to David Coupar, contractor, Mylnefield by Dundee.
1859 – 1862 – ScotlandsPlaces – Inchture Brick and Tile Works – About half a mile S by E. [South by East] of Ballindean House. An engine house, kilns, and sheds erected by the Right Honorable Lord Kinnaird for the purpose of manufacturing bricks and tiles. His Lordship has them in his own hands.
Below – 23/02/1860 – Fife Herald – Sale of stock at Inchture Tileworks. John McLaren, Millhill, by Inchture.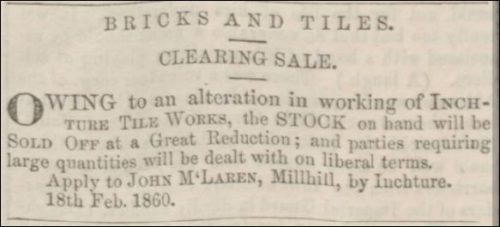 Below – 1861 – Inchture Brick and Tile Works.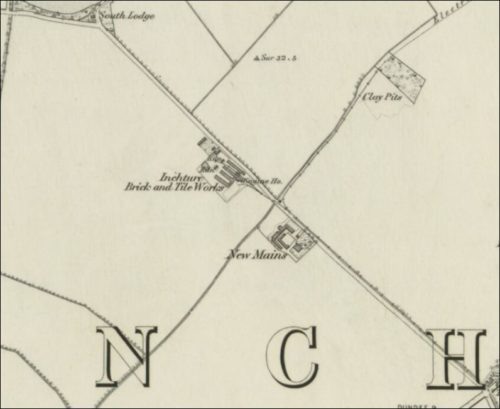 01/05/1861 – Dundee Advertiser – Accident at Inchture. On Friday last, as a little girl, by the name of Jane Thomson, about twelve years old, was employed working at the Inchture Fire and Brick Works, the sleeve of her right arm was caught hold of by two revolving pinion wheels, and the arm about the elbow dragged between and terribly mangled. As soon the girl's cries were heard, and her position observed, one of the workmen went and stopped the engine, and this prevented greater injuries. The poor girl is lying in a pitiful state, and it is feared she will require to have part of her arm amputated.
10/01/1872 – Dundee Courier – To let brick and tile work or sawmill at Inchture by Dundee. Clay superior. The machinery is complete. Might be converted into a sawmill. A branch line of Caledonian Railway runs into the Works. Apply R. Robinson, Castlehill, Inchture, Perthshire.