Drumcavil Tilework, Coatbridge, North Lanarkshire
Drumcavil Tilework, Cadder, Glasgow aka Shankramuir Brick and Tile Work.
Below – 1858 – Drumcavel Tileworks.
01/01/1858 – Glasgow Herald – Limestone works in a portion of the lands of Drumcavil, Parish of Cadder, a few miles from Coatbridge to let … also a valuable bed of rock sand of fine quality in the same lands and a going tilework …
1862 – Drumcarel Tileworks – James Stark & Co, Moodiesburn, Glasgow.
14/02/1866 – Glasgow Herald – Early yesterday morning the body of a man, shockingly mangled, was found lying between the line of rails on the Kirkintilloch section of the North British Railway, near to Croftfoot or Glenboig Brickwork. It was shortly afterwards identified as that of John Connachie, foreman at Drumcavil Brick and Tile Work, aged about 45 years, and residing at the works. It appears that the deceased had been at Airdrie during the day, and in the afternoon had been at Coatbridge, which be left shortly before it became dark and had taken the road home, the nearest way being along the railway. It is therefore supposed that he had been knocked down and run over by some of the trains, several of which must have passed after the accident, Deceased has left a widow and two children.
1878 – Alex Rennie, firebrick manufacturer, Drumcavil, Moodiesburn, Coatbridge, Lanarkshire.
13/09/1879 – Glasgow Weekly Herald – Sequestrations. September 8th. Alexander Rennie, brickmaker, Drumcavil Brickwork by Moodiesburn in the County of Lanark.
30/09/1879 – Daily Review (Edinburgh) – Glasgow Bankruptcy Court. Alex Rennie, brickmaker, Drumcairl (Drumcavil), failed to appear for examination and a warrant was granted for his apprehension. The state of affairs as made up by the trustee shows the liabilities to be £1700 and the assets £800.
24/02/1880 – The Scotsman – Yesterday, Alexander Rennie was examined before Sheriff Spens on a charge of theft by housebreaking. The circumstances under which the theft is alleged to have been committed are somewhat peculiar. It appears that Rennie was a brick manufacturer and occupied the premises at Drumcavil. His estate was sequestrated in September last year but he absconded and failed to attend the diet for his examination. He returned again to this country, however, and it is alleged that on the 22nd or 23rd ult, he broke into his former premises and stole a number of articles belonging to the sequestrated estate. He was committed for further examination. Rennis, since his apprehension, had been in custody on a civil warrant but he has now been detained on a criminal one.
1886 – Robert R Heroe, coal master, 150 Hope St. Torbane Hill Collieries, & brickmaker, Shankramuir & Drumcavil (Drumcavel) Works, Glasgow. (Page 215).
Below – 10/10/1894 – Glasgow Herald – Rock, sand, common brick and gannister works – Drumcavil and Shankramuir Works for sale.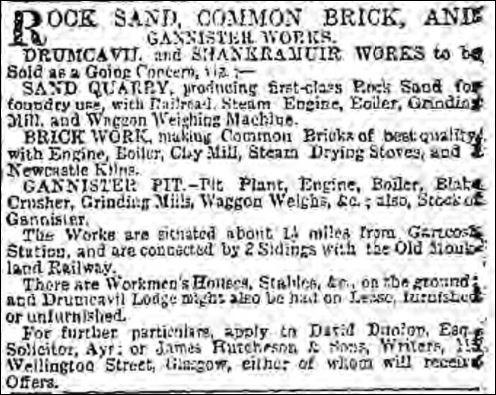 16/08/1895 – Hamilton Herald – To be sold on an early date – At Drumcavil, Gartcosh. Pit, quarry and brickwork plant  …
Below – 1897 – Drumcavel Rock and Sand quarry.