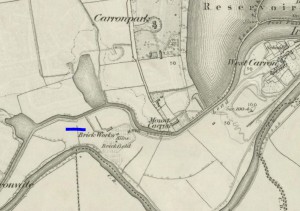 Carron, Falkirk, Stirlingshire – Unidentified brickworks.
Has anyone any ideas as to the identity of these brickworks.
Situated on the River Carron between Larbert and Carron.
The works are recorded on the 1861 OS map but not the 1896 edition.
Possibly the answer will be in here somewhere –  click.
Below  – 1861 – Brickworks to the West of Carron.
.
1909 – Falkirk Herald – … Prominent Falkirk citizens  – Mr William Inglis, Larbert – … Mr William Inglis is a native of Larbert, and a son of the late Mr Thomas Inglis, brickmaker, there. He was educated at John Oliver's School at Larbert, and when, but ten years of age he was sent to farm service. He subsequently assisted his father in the brickmaking business, which he conducted at West Carron, and on the stoppage of the brickwork in 1870, he engaged himself for a number of years in the grocery trade under Mr David Anderson, Dunipace, and thereafter opened a grocery establishment of his own in Larbert, which he still successfully carries on. ( Note – SBH – This could well be the brickworks detailed on the 1861 map).