Colinshiel Brickworks, Colinshiel, Near Bathgate, West Lothian
02/03/1849 – Glasgow Herald – Minerals in Linlithgowshire to let. The coal, ironstone, fireclay and other minerals with the engines, brick kilns etc presently in excellent working condition at Collinsheil on the Estate of Couston are hereby offered to be let for about 17 years of the unexpired lease and entered to immediately. Collinsheil is 2 miles from Bathgate and the Airdrie to Bathgate Railway when completed passes through the property. The Edinburgh and Bathgate railway will also be opened in May next. For particulars apply to Messrs Steele and Douie, 6 South Hanover Street, Glasgow or to Mr McCreath, Mining Engineer, Drumpark, Coatbridge.
Below  – 1854 – 1855 – Colinshiel Brickworks, Pit No 1, Colinshiel.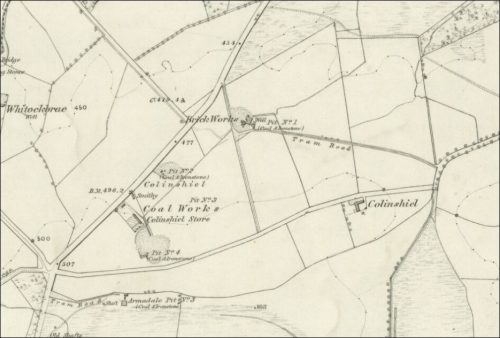 Below – 04/04/1878 – Falkirk Herald  – Colinshiel Brickwork for sale.