Tanya is an artist working predominantly with clay. She studied ceramics in Stroud and Bristol, having originally trained in both architecture and landscape architecture. Her work draws on this background using the disciplines of architectural rationality and control, as well as the all-encompassing principles of natural settings to make her pieces essential and elegant elements of the environment they inhabit.
Her hand-built and glazed pieces reflect the aesthetic properties of raw materials such as concrete, brick, stone and steel. They capture the essence of these through their texture and colour and use reflected light to enhance their strength and solidity.
Tanya says – Bricks are beautiful. Bricks are solid and robust, but also very feminine, graceful, sophisticated and cool. They can be tactile like velvet or old precious wood, or like sun-soaked rocks by the seaside. They are collected, swapped and even bought individually as pieces of jewellery or sculptures and then displayed as proudly as any collection of Art. Art of bricks.
Among her other talents, Tanya likes to draw bricks and states "I also like drawing bricks as a series of visual studies, looking at the whole brick, its frog (the bit with maker's name), its surface carrying signs of weathering and time, its imperfections like lines on a human face. It can tell you the story about how it was made, how it has been used, how it travelled and how it has retired to the collector's shelf or as an old dignitary in a garden".
Below – The following are drawings Tanya has created of bricks from my collection. The 'Whitehill' and 'Atlas' were the 2 that started me collecting.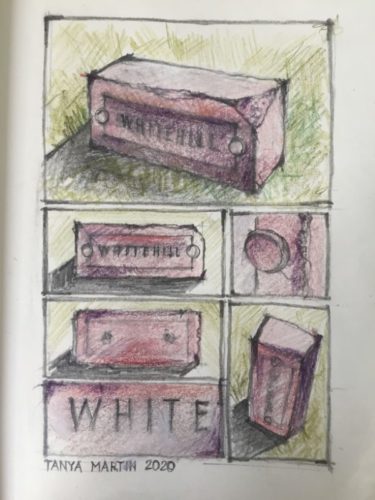 .
.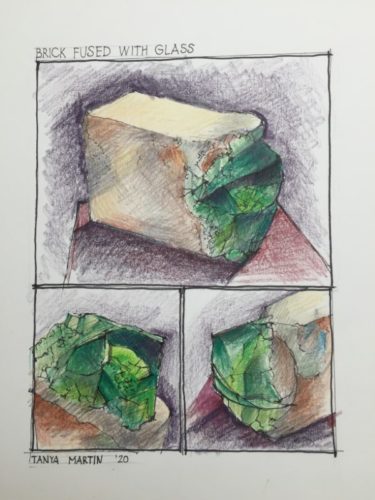 Below – Another 'Whitehill' drawing of one of Tanya's own bricks.
Below – A black and white study of a brick which had been fired with a stone amongst the clay mix.
Below – Glazed bricks make good birthday presents for friends and looks good displayed as decorative objects or cool door stops. A layer of colour and texture creates a narrative and gives brick and extra depth and interest.
Below – Apart from glazes, slips and oxides, bricks can be decorated with ceramic transfers (or decals).