Red Craig Tileworks, Kirknewton, Midlothian
Below – 1852 – Red Craig Tileworks, Kirknewton, Midlothian.
1852 – 1853 – Scotlandsplaces – Redcraig – A small farmhouse & offices with about 60 acres of arable land and a tilework attached, occupied by W. Stark and on the estate of the Earl of Morton.
16/01/1856 – North British Agriculturalist – Midlothian. To be let with entry at Whitsunday 1856. The brick and tilework on the farm of Redcraig in the parish of Kirknewton as presently possessed by Mr William Stark. The machinery and buildings may be had at a valuation if required. Further particulars will be learned on application to James Dalgliesh Esq, W.S, 14 Rutland Square, Edinburgh or to Mr Glendinning, Hatton Mains, Ratho – either of whom will receive offers until the first of February next. Hatton Mains, 4th January 1856.
Below – 02/10/1861 – North British Agriculturalist – The tileworks at Redcraig, parish of Kirknewton and county of Edinburgh to be sold by a private bargain.  The whole erection, consisting of a condensing steam-engine of 18 horsepower, with bruising-rollers and clay-mill attached, all in thorough repair, three tile machines, and other utensils; likewise the whole shedding for drying tiles, and two brick kilns for burning the tiles. The whole to be sold together or separately, as may be agreed on. The works will be seen in full operation the whole of this month, and shown by the present tenant, Mr Stark; and offers will be received by him, or by George Glendinning, Hatton Mains, Ratho, until the 12th October next. Hatton Mains, 19th September 1861.
.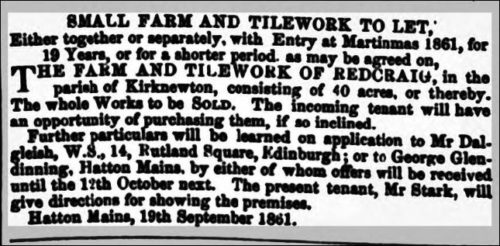 02/09/1863 – The Scotsman – To let in the County of Midlothian, farms, lime quarry and tilework – The farm of Raw Camps and lime quarry, the lands of East Camps and lime quarry and the tilework at Redcrag (Red Craig) will be let with buildings, steam engine and all the machinery connected with the works. It is well situated for making tiles there being a lie of the Caledonian Railway on the work and upwards of £1000 worth of tiles are required for the estate … The lands, quarries and tilework will be pointed out and the condition of set shown, by Mr John Stark, Raw Camps …
Below – 06/03/1867 – North British Agriculturist – Redcraig Tileworks for sale.
1869 – 1870 – James Marshall, Redcraig Tilework, East Calder.
1870 – 1871 – James Marshall is recorded as the farmer at Redcraig but there is no reference to a tileworks so perhaps they are disused by this time.
1896 – Redcraig Tileworks are not detailed on this map.