Found by Ian Suddaby on the muddy banks of the River Carron at Grangemouth in Central Scotland.
Ian states – You can see the famous Kelpies on the horizon in the first photo. I found what I assume to be part of a grate back for a relatively small industrial fire in the mud.
In terms of length and width, it's not unusual but the thickness is only 1¼", less than almost all my grate backs.
It's stamped OTTO and apart from the Otto Works in Derby where a small company produced engines in the early 20C, I can't find anything useful. It might well not be British made.
Was OTTO the maker or the customer?
.
.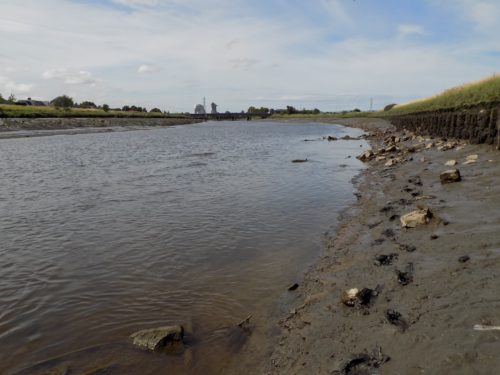 Below – 27/12/1938 – Dundee Courier – This advert may be relevant in that Ingham's stocks an open fire stove by the name of 'OTTO'. It does not answer the question as to who the manufacturer was.
Below – 08/09/1899 – Daily Gazette – This may also be relevant.
Below – 28/12/1927 – Shields Daily News – Five hundred miners will be thrown idle at Carnock Colliery, belonging to the Alloa Coal Company, six miles from Stirling, where operations will shortly begin for the erection a plant for extracting coal by-products. Messrs Simon Carves, of Manchester, have received the contract for installing the plant, which will take six months, during which time the colliery will closed. A number of miners will be retained for improvement and development work underground.
Below – 27/05/1939 – Milngavie and Bearsden Herald – A Scottish connection between Simon-Carves Ltd and Wm Baird & Co Ltd, Twechar.
Alan Telford states – Otto was the (originally) German by-product coke oven company, but the UK branch was "acquired" during the first World War by Simon-Carves, although Otto was still used as a brand name until about the 40s. The British branch of Simon-Carves was based in Manchester, although it was an Anglo-French company. Otto was also based in Manchester after it was taken over by S-C, although I'd have to look up where it was based before.
I know Otto (post takeover) made ovens for the Alloa Coal Co. at Carnock, don't know if this has any relevance to the location of your find.
For clarification, the Ottos built for the Alloa Coal Co. were at what became Plean coke works, which I think is close-ish to Grangemouth.